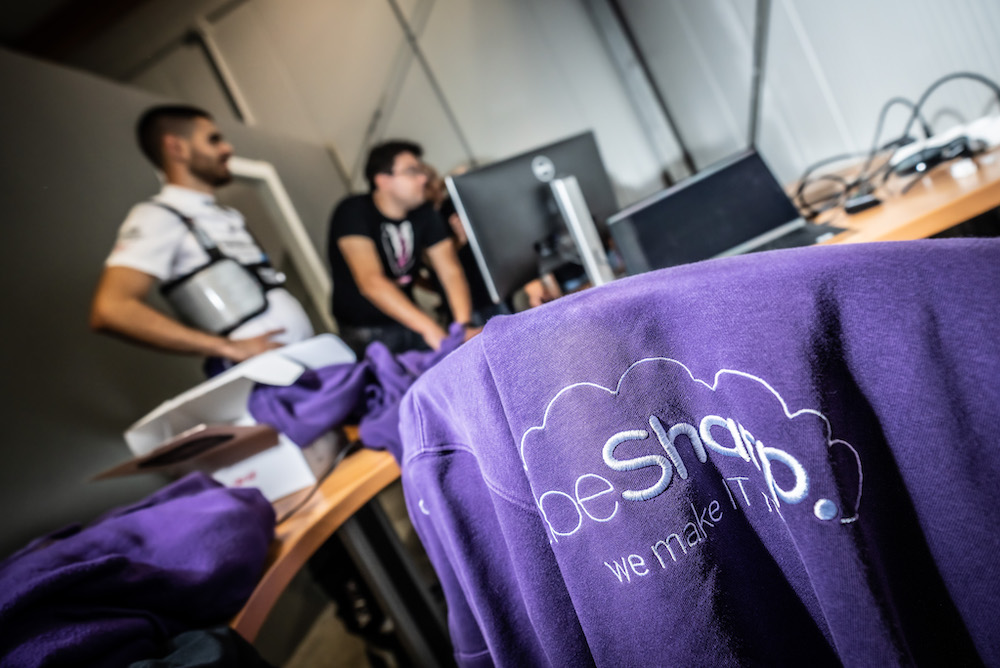 There are two kinds of engineers in the world: those who used to take every toy apart for modding… and those who lie.
This is the mindset of beSharp. We spend every day figuring out how to improve every single thing we do.
We are not perfect, of course. We're just perfectionists to the bone. We constantly strive to come out with the best solution possible to make things run. Every. Single. Thing.
You know, for us, even fun is an extremely serious thing. So here we are again. The workday has ended, but nobody has left the office yet. All are waiting for the last git commit to complete. Cables, electronic parts, and circuits are all around, ready to be connected to build great things.
Before discovering what we are tinkering with, we need to take a step back.
Technology at performance's service
Engineers usually love motorsports, and beSharp is no exception. Our passion for engines is as old as we are since there is no other field where technology plays such a crucial role in perfect performance.
A real racing car is still not within our reach… So, some time ago, we ended up building an ultra-realistic driving simulator carefully equipped with: a direct-drive steering wheel with 32 Nm of torque, pedals with hydraulic dampers designed to withstand over 140 kg of pressure, a racing seat with 6-point belts, and, above all, a 4DOF movement platform to reproduce vehicle dynamics and roughness of the route.
The goal was clear: total realism.
Once assembled, every free moment was good to challenge the best time of the day, to turn it into "The best time of the day… so far!" (Cit.)
To challenge ourselves further, we chose to race in Imola, one of the most technical circuits ever. A mixture of slow and fast corners, unstable slopes, and countless other critical specifics to consider to achieve the perfect lap.
Despite the hours spent practicing, improvements dropped after a certain number of laps performed, no matter how skilled and precise we were while driving. That meant that our first "best-of-the-best lap" was reached… but our competitive soul was still hungry. We just couldn't get enough.
How to challenge this limit, then? The answer was data.
As Galileo Galilei stated: "Measure what can be measured, and make measurable what cannot be measured".
We decided to build a data-driven solution to collect, analyze, and visualize data in real-time to get more chances to improve ourselves.
After some days of tinkering hard, pushing technologies and data analytics skills to the limit, our telemetry solution was ready to be tested. We got the "best humanly possible lap".
We were thrilled about that, but something was still missing: an official testing ground. To meet this need of competition, we decided to bring our R&D project to one of the most important Cloud events in Italy: the AWS Summit Milan.
The sim at the AWS Summit Milan
Two months was the time it took for us to fine-tune Sim for "the lion's den".
When the Summit finally opened, many curious and enthusiasts started to rush to our booth even before the driving simulator was turned on. Everyone was wishful to see their name on the leaderboard.
More than 400 people joined our challenge, but our greatest satisfaction was the almost immediate mindset switch: from pure fun to a wise data-driven look at what they were doing.
A simple Proof-of-Concept is worth a thousand boring words: the power of the data to boost any company's business became crystal-clear to our visitors.
The Summit gave us another unexpected opportunity: thanks to the Sim, we met one of the most important Karting Pilots in Italy, Mattia Vita, and Massimiliano Bosi, track engineer, driving Instructor, and rally navigator.
Mattia and Massimiliano were so excited about our passion for motorsports and our tech expertise, so a few days later they challenged us: "Can you bring telemetry to the Karting world?"
beSharp Performance Technology
beSharp's secret is turning our passions into the job we love.
Tinkering with brand-new technologies and getting out of our comfort zone every time we had the opportunity, allowed us to build unthinkable disruptive solutions.
This approach has made us meet people who share our way of seeing things over time, and allowed us to get our hands dirty on the projects we enjoyed the most.
Wouldn't it be great to always work this way?
In 2007, when the Cloud was a technology for a niche of visionary geeks, every new project was pure R&D. The perfect field for those who, like us, are not happy with just "getting a solution".
Today the Cloud "is the new normal", but we still keep up with satisfying our constant need of pushing further and experimenting beyond all limits. Our ambition to improve skills and the way we use technologies we already master now has a name: beSharp Performance Technology.
beSharp Performance Technology (or bPT, for friends) is our R&D brand carrying out how we make things work in extreme contexts.
Our telemetry system born for our hunger evolved into the karting project that will help Mattia in his journey to the world champion title.
This first "Performance Technology" branded solution will provide drivers and their teams with very useful information available in real-time to improve their performance, giving them access to tools and technologies not currently available in the karting world.
Curious to know how it will turn out? So we are! While closing this article, we are fully developing the PoC of the solution that will bring us to a disruptive scenario in karting.
We are documenting everything, of course. Follow us on our blog proud2becloud to find out what we will put on track!